Excellent Deck Ideas for Your Condo
Apartment decks give homeowners a chance to enjoy some open space and get some fresh air. What many don't know is that these outdoor spaces can become so much more. With some creativity and good design, an apartment balcony can become a functional and captivating areas that add value to your home. Here are some cool ideas to turn your apartment balcony into everyone's favorite spot.
 1. Create a small dining space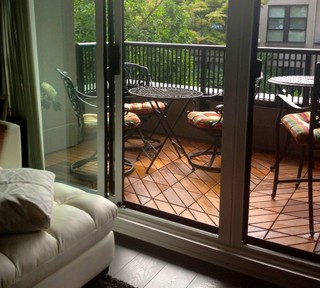 One of the easiest changes you can do is to create a small but cozy dining space. Add a table, some chairs, a rug and some plants to extend your home into the outdoors. Perfect for coffee and breakfasts, enjoying a meal here in the morning would be the perfect start to the day.
 2. Add a hot tub
Looking to turn your deck into something a little bit more luxurious? If you have a larger space, turn it into a relaxation spot. Start with a durable and non-slip commercial floor, install a portable hot tub, and add a couple of plants for ambiance. In no time, you'll have your very own oasis, a refuge from all the stress of urban living.
 3. Install artificial grass
Apartment balcony floors are usually outfitted with boring tiles. Add some character and fun to your balcony by simulating a fresh patch of grass. Artificial grass like Limonta's Tuscany or Deluxe Summer series, simulates the lushness and captivating look of its natural counterparts, without having to deal with the high maintenance of real grass. Artificial landscape grass will stay green all-year round.
Once that's in place, you can create a personal nook where you can do your reading. If you have a little bit more space, you can also place a table and a grill, so you can enjoy the traditional backyard barbecue, without having to leave the comfort of your urban pad.
4. Build a mini bar
Another excellent idea is to turn your apartment's party space. With a couple of shelves, a cocktail table and a fully stocked bar, you can host great parties for friends and family. With the additional space, you won't have to worry about your guests not having enough room during those get-togethers.
Don't waste that precious space. Turn your apartment balcony into a highlight of your home with any of these tips from the E-Sports Newsroom.
—
Photo Credits
Artificial grass photo from Limonta.
Deck photos from Houzz.